At Capacity
Sweat Crawl - Lodo - April 28th Fitness · Co-Ed Social
Sold Out
MonTueWedThuFriSatSun 1:30pm to 4:00pm
Group Fees

Regular

50.0

per player + 1.99 Processing Fee
Individual Fees

Regular

40.0

+ 1.99 Processing Fee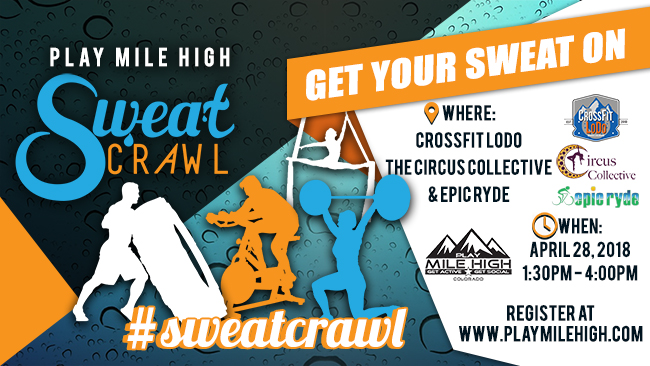 Join us,
Saturday, April 28th
for Play Mile High's first ever, Sweat Crawl! We're partnering with CrossFit Lodo, The Circus Collective, & Epic Ryde to bring you the ultimate (super fun) afternoon of workout and friends. The day consists of three, 30 minute sweat sessions, in between studios we'll run/walk/crawl or do whatever it takes to make it from studio to studio.
The fun doesn't end there, after we've burned a few calories we will meet up at a nearby grub stop for a little post party fun!
*If you are looking to participate with friends be sure to sign up as a small group and we will make sure you start in the same location*
The first 25 people to purchase a ticket will receive it at our discounted $30 rate. All other tickets purchased online will be $40. Day of tickets are $45.






Studio Locations



CrossFit Lodo


601 W. 29th Ave
Denver CO 80202



The Circus Collective


2041 Lawrence St
Denver, CO 80205



Epic Ryde


2823 Larimer St
Denver, CO 80205


Schedule

After you register you will be assigned to one of our routes*

Check In - 12:30-1:00 p.m. @ Starting Studio
Group Stretch & Warm Up - 1:00-1:15 p.m.
Class Session #1 - 1:15 - 1:45 p.m.
Travel to your next Studio - 1:45 - 2:05 p.m.
Class Session #2 - 2:10 - 2:40 p.m.
Travel to Your Next Studio - 2:40 - 3:00 p.m.
Class Session #3 - 3:00 - 3:45 p.m.
Meet at Our After Work Out Hub for Grub - 4:00 p.m.



*If you would like to sign up with your friends and do the Sweat Crawl with them, please sign up as a team and we will make sure you end up on the same route!




The Circus Collective - Acro Yoga
Collaborate with others and explore the art of movement with Acro Yoga. Utilize the power of teamwork to create amazing and fun partner acrobatic routines available to the beginner Acro Yogi. Expand your vocabulary of traditional yoga postures by learning how to pour weight and receive help from friends to access new and fun poses.
Instructors: Air Gradow & Peter Holben (read their bios here: www.circuscollective.com/copy-of-about)
Epic Ryde - Cycling + TRX
A 30-minute class packed full of climbs, sprints, intervals and more. Perfect for those looking to get a great, challenging workout in and build their endurance on the bike. The console display lights up in one of five colors, corresponding to a users WattRate power meter readings or heart rate output, making classes fun, motivating and creative for instructors to engage and encourage ryders.
Instructor: TBD
CrossFit Lodo - CrossFit
We will be teaching a CrossFit/HIIT style workout that will include a circuit of movements spanning weightlifting, cardio and gymnastics. Movements will be constantly varied and functional. All movements will be scalable to your level of fitness and ability while still getting in a great work out.
Instructor: TBD
Thanks to Our Sponsors!




Questions? Contact us at info@playmilehigh.com